In part 1 we covered what the Under-19 age group will look like in this new era of youth development in America as well as Kevin Thelwell's early contribution to the academy. If you have not read part 1 already click here. Part 2 will look at the rosters for the Under-15s, Under-17s and Under-19s with a focus on the U17 and U15 rosters in particular.
Under-15s Overview
The U15s are made up of players primarily born in 2006 who played Under-14 soccer last year. This was already a strong group for the academy, having won 10 games and drawn 2 in a shortened regular season. The group also advanced to the quarter-finals of the ICC Futures tournament, losing to Paris Saint-Germain and advancing farther than any other MLS academy.
The U15s are coached by Jonathan Rhodes, who joined the academy last season. Rhodes had worked with academy director Sean McCafferty in the past which was a big factor in his decision to join. He was confident in his decision when he decided to move to New York, which has only been reinforced in his first year at the club.
Rhodes has a big job as the U15 coach as it is the age level where players start to transition from a youth team to individual players on a professional pathway. It is also the last year they only move up one age group so Rhodes is tasked with preparing them to be ready to jump to U17 which is generally 15 and 16 year olds, compared to U15 which is generally just 14 year olds. This age also sees players participate in the Generation Adidas Cup, which is a great opportunity to play high level games in high pressure situations.
"The big challenge for the 15 age group and the 15 age group coach is really to get them ready for the U17s, and that's the first time they've had to jump two years so it's difficult for them, it's difficult knowing that's coming, but it's a challenge. And I think a big part of the U15s is creating adversity for them in the training environment in order to challenge them to be ready, so when they step up to that U17 as year younger players, they can still be successful, and I think seeing what Darsein [Gabriel] and Curtis [Ofori], and even Bento [Estrela] are doing at the U17s and being challenged with the U19s shows we created that environment last year for sure. And really, it's just about doing that again, really challenging them to have a more professional mindset now but at the same time still understanding they are 14 years old, and not putting too much pressure on them and allowing them to make mistakes, understanding they're going to make mistakes with our philosophy. Our philosophy is difficult for a 14-year-old because it's a real dynamic, physically challenging philosophy and way to play the game, and they're not quite ready for that. So it's can they see the correct cues, have the right ideas and maybe not execute, but as long as they are doing the right things at the right times, we're sure that translates to success at U17 and U19 level."

Jonathan Rhodes on the challenges of coaching Under-15s.
The Under-15 Roster
One of the goals for the academy was to have smaller rosters in order to give players more minutes and this has been achieved with a roster size of 17 players. For this upcoming season they have added 5 new players with all but 1 coming from local clubs. Those players are Jed Akwaboah, a center back from STA, a partner club based in Morris County, New Jersey. Jed had the ability to train with the academy before COVID-19 shut things down due to the partnership. Ethan Ortiz, a defender from World Class FC, an academy in the heart of New York City FC territory with facilities across the street from the club's first team training field. Li Ong Whye, a midfielder from TSF Academy, Evan Marques, an attacker that scored 14 times in 16 games for Cedar Stars Bergen U14 team, and finally Vedin Barve, a goalkeeper from New Jersey who spent last season with D.C. United.
Those new players will be joining an already strong core of players such as Andrei Frasheri and Lenny Aviles who played up a few times with the U15s last year. Also back from the U14s are Patrick Shaw, who lead the team in scoring with 13 goals, and Copeland Berkley, who looks to be a interesting prospect in defense. Berkely played anywhere from center-back to winger for the U14s, which is a testament to his ability and versatility, however, expect him to to start specializing as a defender even if it's in multiple positions.
"It's a really good group in possession which we're happy about. They move the ball really well, they are patient when they need to be at the right times, but they can play quicker, they are good on the counter attack. As a core group, we're really happy with the level of talent."

Jonathan Rhodes on the level of the Under-15 group.
One thing that you will see at the U15 level is players at vastly different stages of physical maturation. For this reason teams are allowed to have players play down even if they have aged out of the age group. This initiative is called bio-banding, which the Red Bulls are using with a few players who are likely to struggle physically with the jump to U17s. One example of this is Kyle Evans who is a smart and talented center midfielder but is also very small and struggled at times last year due to his stature. He, alongside Dreni Idrizi (goalkeeper) and Nicholas Sanchez (defender), will spend an extra year with the U15s as they mature physically.
He's [Kyle Evans] a bio-banding player for us this season. So he's going to play again with the 15s and that allows him a little bit more success because there are times where, physically, his ideas are the right ones, but he can't quite execute them because you might be playing against that early developer, that six foot two number six that he just can't get around right now, even though his idea, his body movement was all correct. So patience is a big part of it. But it's nice that there are protocols in place like bio-banding where we get to have two or three players play down. But it's important that we communicate to the players that we don't see that as a demotion, we just see that as putting them in the right place for them to be successful right now because they need success in order to solidify the good ideas that they have.

Jonathan Rhodes on the benefits of bio-banding.
| | | | |
| --- | --- | --- | --- |
| Vedin | Barve* | U15 | GK |
| Victor | Signes | U15 | DEF |
| Evan | Marques* | U15 | FWD |
| Copeland | Berkley | U15 | DEF |
| Dreni | Idrizi x | U15 | GK |
| Andrei | Frasheri | U15 | MID |
| Patrick | Shaw | U15 | FWD |
| Javier | Gonzalez | U15 | MID |
| Maddox | Ortiz | U15 | DEF |
| Leonard | Aviles | U15 | FWD |
| Kyle | Evans x | U15 | MID |
| Henry | Weston | U15 | MID |
| Whye | Li Ong * | U15 | MID |
| Patrick | VanLuvanee | U15 | GK |
| Ethan | Ortiz * | U15 | DEF |
| Jed | Akwaboah* | U15 | DEF |
| Bryan | Vasquez | U15 | MID |
| Nicholas | Sanchez x | U15 | DEF |
Current New York Red Bulls Under-15 roster. * = New player | X = bio-banding.
Under-17 Roster
The U17s are a mix of second year U17s who didn't see as much time last season and the U15 team that had 9 wins and 1 loss as they topped their GA Cup group. While New York Red Bulls still operate a U19 team, U17 is the key age group in the eyes of MLS. This is where MLS is focusing its attention and it is seen as the age group where the path of potential homegrown versus college soccer becomes much clearer. It's not clear that Red Bulls see it the exact same way as they have pushed players like Darsein Gabriel and Curtis Ofori, both first year U17s, up to the U19 level already. However, it should be expected that the 2004 and 2005 birth year players training with U19s will still play a large amount of games with the U17s. This specifically comes into play for major tournaments such as Generation Adidas Cups where players will drop down to strengthen the squad.
The strength of this team is its midfield where they boast depth and emerging talent. This allows the U17 age group to set up the midfield in a variety of ways from different 4-3-3 variations to the 4-1-3-2 we saw employed many times last year. Some of the stand outs in the midfield include Darsein Gabriel, a number 8 who is good on the ball and has the vision to pick out a pass. He is currently part of the homestay program moving from Connecticut and has been involved with the United States youth national teams.
Bento Estrella is a 2006 currently playing 3 years up. Bento is a long athletic kid capable of playing in all 3 midfield spots. He possesses good skill on the ball and the range to spray passes in order to switch points of attack. The big challenge for Bento will be giving a consistent effort the entire game. At times with the U14s and U15s he would drift out of games occasionally and take his time getting back on defense. However, he is still incredibly young and those are all things that can be fixed. Eli Conway should provide a veteran presence in the midfield as a second year U17 able to play as an 8 or a 10. In addition to those three, Ezra Widman, who can play wide or as a center midfielder, Erick Ruiz, who is a hard nosed ball-winning 6, and Nico Beninda, a number 10 should factor in to the midfield.
Up top Jackson Hopkins will lead the line with Nicholas Rabiu and Luciano Sanchez flanking him in either 2 striker formations or as wingers. Serge Ngoma will also be a candidate to drop down, however, he is currently listed on the U19 roster. Hopkins will look to have a break out year with Red Bull after joining the U17s last year after stints at D.C. and Virginia Development Academy where he scored 18 goals as a U15. This is a big opportunity for him to raise his profile and he will be given every chance to shine.
At the back Liam Winograd will anchor the back line with Curtis Ofori and John Carlos Cortez at left back. The right side of the defense will be up for grabs with Arian Recinos, Paul Smajlaj, Jackson ten Oever all competing for minutes there. Ofori is the player to watch on the backline having spent time training with USL and U19 team and has been involved in a few regional youth national team camps at the U14 level. In goal Ciaran Dalton should see the majority of the minutes with James Cintron serving as his back up. Dalton has also spent time with USL and is the top goalie prospect in the older age groups.
| | | | |
| --- | --- | --- | --- |
| Curtis | Ofori | U17 | DEF |
| Darsein | Gabriel | U17 | MID |
| Bento | Estrela | U17 | MID |
| Liam | Winograd | U17 | DEF |
| Luciano | Sanchez | U17 | FWD |
| Paul | Smajlaj | U17 | DEF |
| Erick | Ruiz | U17 | MID |
| Ezra | Widman | U17 | MID |
| Jackson | ten Oever | U17 | DEF |
| John Carlos | Cortez | U17 | DEF |
| James | Cintron | U17 | DEF |
| Nicholas | Rabiu | U17 | FWD |
| Nico | Beninda | U17 | MID |
| Eli | Conway | U17 | MID |
| Arian | Recinos | U17 | DEF |
| Jackson | Hopkins | U17 | FWD |
| Ciaran | Dalton | U17 | GK |
| James | Lucas | U17 | MID |
New York Red Bulls Under-17 Roster.
Under-19 Roster
The structure of the U19 season was covered more extensively in part 1 of our preview so we will jump straight into the roster. It is important to note with the U19 roster is still very much under construction. COVID-19 has made bringing new players in harder, however it is likely that Red Bull will bring in a few more players from both inside and outside the tri-state area.
As you can see many of the players listed on the roster are with the USL team so it is likely players such as Kenny Hot, Daniel Edelman, Dantouma 'Yaya' Toure, Tapiwa Shumba and Bo Cummins may not play at all with the U19s this fall and involvement may remain limited if they continue with the USL team in the spring.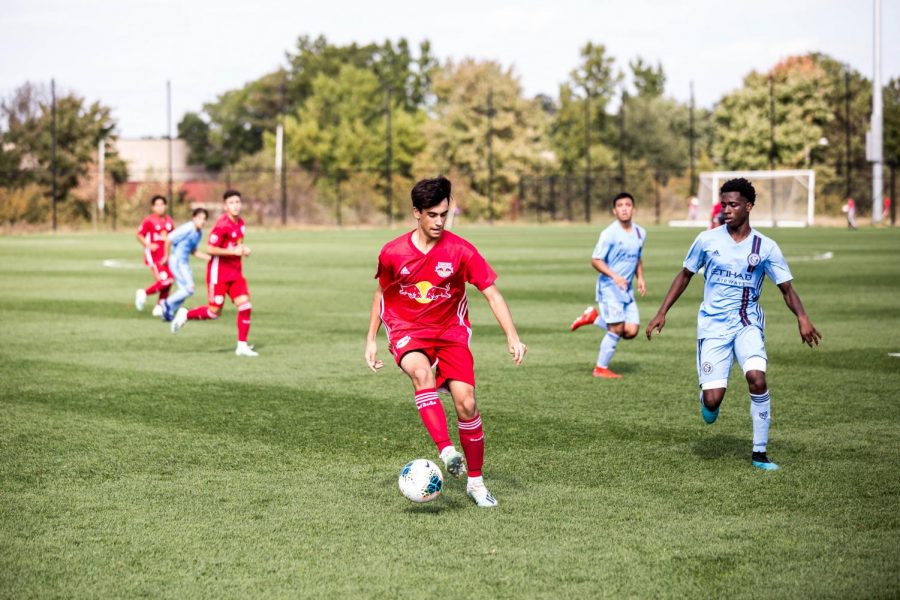 The U19s feature a few new names including Imran Sekagya, the son of New York Red Bulls II assistant coach Ibrahim Sekagya. It is very hard to project how the team will line up considering so many players are with the USL team currently and new players are still being added in.
| | | | |
| --- | --- | --- | --- |
| Max | Andrews | U19 | DEF |
| João Vítor | Martins Miranda | U19 | MID |
| Tapiwa | Shumba | U19 | MID |
| Nicola | Rosamilia | U19 | FWD |
| Joey | Zalinsky | U19 | DEF |
| Bo | Cummins | U19 | DEF |
| Ty | Walker | U19 | DEF |
| Daniel | Edelman | U19 | MID |
| Dantouma | Yaya Toure | U19 | FWD |
| Kenan | Hot | U19 | MID |
| Matthew | Acosta | U19 | MID |
| Andrew | Noel | U19 | GK |
| Roald | Mitchell | U19 | FWD |
| Nicolas | Nee | U19 | FWD |
| Andrew | Maia | U19 | FWD |
| Thomas | Tulgar | U19 | FWD |
| Ian | Pierra* | U19 | MID |
| Ryan | Langberg* | U19 | GK |
| Serge | Ngoma | U19 | FWD |
| Imran | Sekagya* | U19 | MID |
| Nestor | Cabrera* | U19 | MID |
Current New York Red Bulls Under-19 roster. * = New Player.